Profile of Aoki village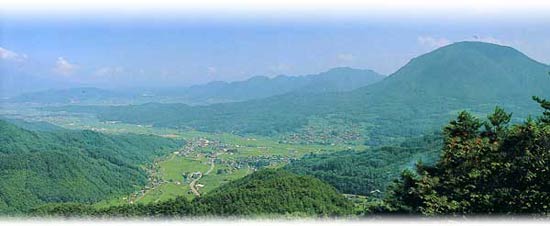 Aoki village is located in Nagano prefecture.You can experience beautiful nature,
and breath fresh air from mountains.It takes only 2 hours to Aoki village from
Tokyo Station by a Shinkansen.
The total area is 57.09k ㎡, and the population is about 4600.
There are scenic 3 big mountains called The Aoki three,
Mt. Okami(1,250m)in the south, Mt. Komayumi(1,223m)in the north,
Mr.Jyukkan(1,284m)in the west.
There are a lot of creeks, and the water is very clean and clear.
The elevation is approximately 500 to 850 meters high.
Eighty percents of terrain of village is mountain and forest.
Ten percents of terrain is for growing rice, mushrooms, fruits, and flowers.
There is a big difference between the temperature in summer and winter.
Summer will be higher than 30 degrees Celsius which is 86 degrees Fahrenheit,
and winter will get as low as -10 degrees Celsius which is 14 degrees Fahrenheit.
You can see many beautidul fireflies in Aoki.
There are natural
hot springs
spots as well. It is a small village,
but offers much beauty through its natural habitat.
Village of symbol

This is the symbol of Aoki's three mountains. It is the shape of "A" in Japanese.
Three of the triangles represent the mountains,and the bottom represents harmony.
Access to Aoki village